Stainless steel is an alloy of iron that is resistant to rusting. It contains at least 11% chromium and may contain elements such as carbon, other nonmetals and metals to obtain other desired properties. Stainless steel's resistance to corrosion results from the chromium, which forms a passive film that can protect the material and self-heal in the presence of oxygen.
For water bottle scope, what we used is 304 stainless steel, food-grade, with better corrosion resistance, better acid and alkaline resistance. some factory used 201 stainless steel. Is 201 or 304 stainless steel better? Is 201 or 304 difference? Is 201 or 304 stainless steel same?
Type of 304 stainless steel- is the more common and general-purpose type of stainless steel. This type is defined by its higher nickel content than other types of stainless steel. Due to the rising cost of nickel, this makes stainless steel type 304 slightly more expensive than the other types. The nickel, however, is what makes type 304 less susceptible to corrosion.
Obviously, you can see why this type appeals to the appliance and plumbing industries. It also appeals to sign and electrical industries for some of the same reasons. Fixing signs and strapping pipelines and tanks are common uses for this type of stainless-steel banding.
Ultimately, exposure to corrosive elements is what leads businesses to choose type 304 steel banding for their needs. It also has the same bending, shaping, and flattening abilities as type 201 stainless steel. Unfortunately, while it is more resistant to corrosion, it is less durable than other types of stainless steel.
Type of 201 stainless steel- is unique as it was created in response to soaring nickel prices. This means that it is cheaper, but it also has much lower nickel content. Without as much nickel, it is not as effective at preventing corrosion.
The higher levels of manganese help make type 201 one of the strongest types of stainless-steel banding. Industries that prefer this type are those looking for more durability at a lower cost and are not worried about exposure to corrosive elements.
As the cheapest type of stainless steel, type 201 seems the most appealing. Still, it will not hold up as long in highly corrosive environments.
Conclusion: 304 stainless steel toughness is better: 201 stainless steel material is relatively hard, with a bit of steel, it is easier to crack. The 304 stainless steel vacuum flasks does not rust because it contains nickel, and the 304 stainless steel is more tough and the fatigue resistance is much better than 201. For water bottle scope, 304 stainless steel more better than 201 stainless steel.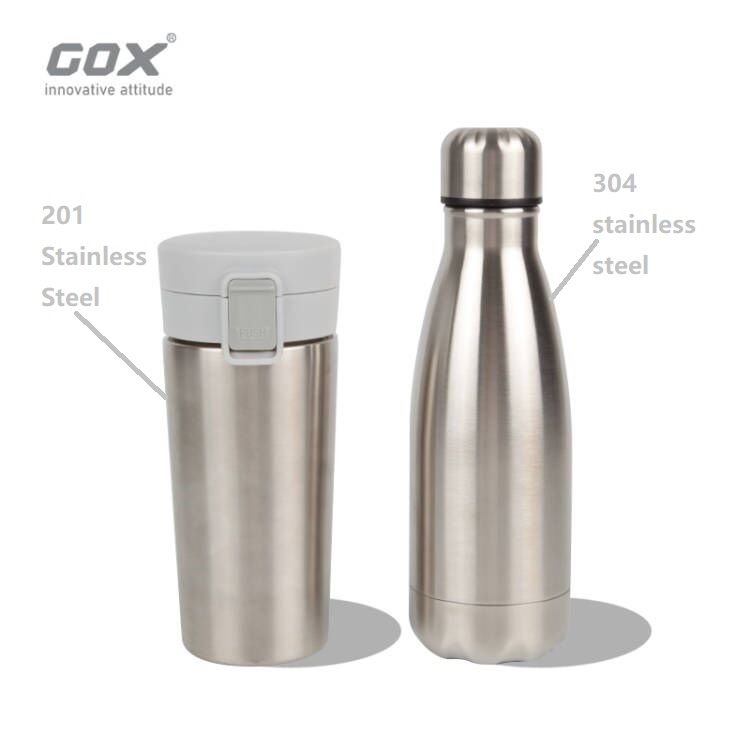 ---
Post time: Jul-22-2022